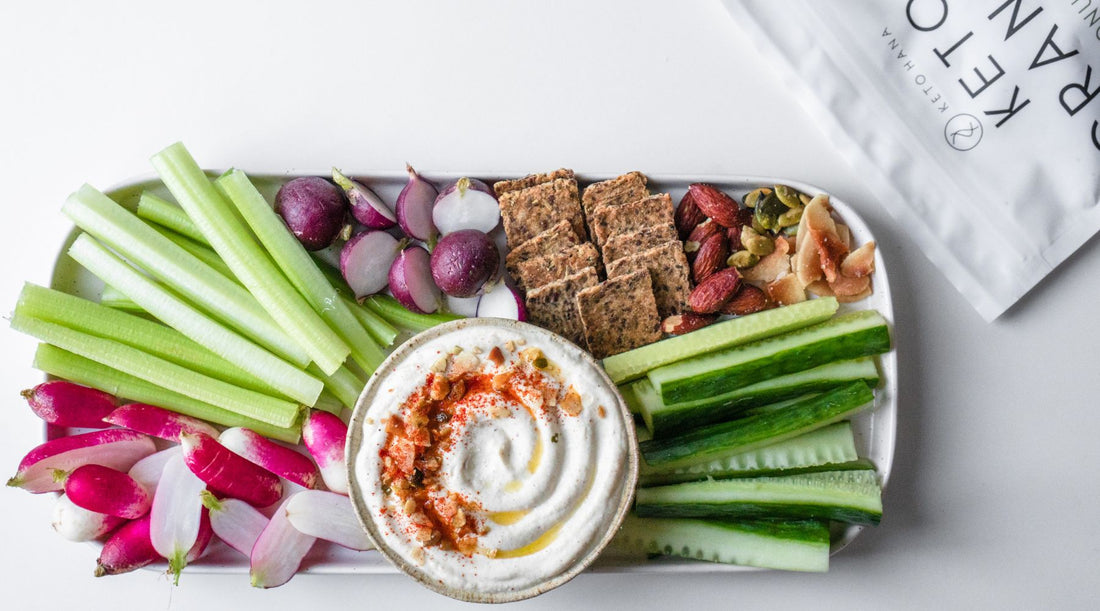 Smooth, creamy, and completely moreish this cauliflower dip is the perfect addition to any vegan spread. It really is a guaranteed crowd please. We recommend serving with crunchy crudités and keto crackers.
(serves 8)
Ingredients:
70g keto hana coconut and almond granola
500g steamed cauliflower florets (approx 1 medium cauliflower)
2 tbsp light tahini
2 tbsp olive oil
2 tbsp lemon juice
3⁄4 tsp salt
To serve:
1/16 tsp paprika powder
5g keto hana coconut and almond granola, crushed
Cucumber, sliced into 1⁄2 cm sticks
Celery, sliced into 1⁄2 cm sticks
Radishes, halved
Keto crackers
Method:
Boil the cauliflower in a large saucepan, immersed in water with a lid on for around 5 minutes until tender.

Pulse the granola in a high speed blender or food processor until a coarse flour forms.

Add the rest of the ingredients and blitz until smooth and creamy.

Refrigerate until cool, garnish with smoked paprika, crushed granola and another drizzle of olive oil and serve alongside crudites and crackers.