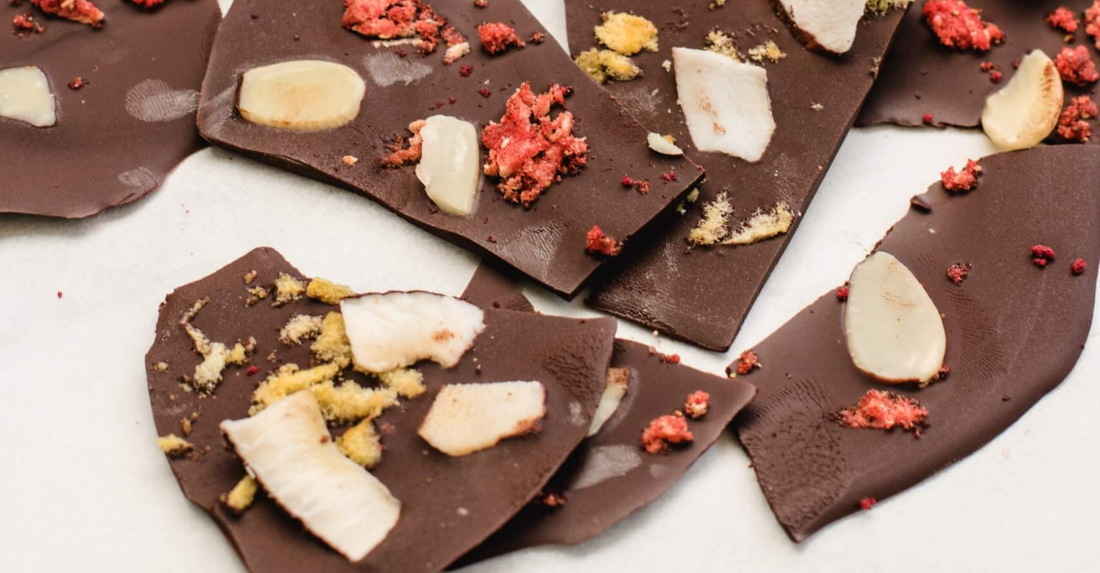 Easy to make Keto Hana Bark Recipe
This is such an easy recipe, one of my go to's! Little effort needed and the reward is SO good! If time is tight then use our Keto Hana granola to save you precious moments. Promise you wont regret it.
Ingredients

1/2 cup raw almonds or Keto Hana granola
1/2 cup unsweetened organic raw coconut flakes (if you're using KH granola, you don't need this)
100g dark chocolate (the darker the better!)
1/2 cup coconut butter
1/2 tsp almond or vanilla extract
10 drops liquid stevia (optional)
1/4 tsp pink Himalayan salt

Instructions

Preheat the oven to 180 degrees. Spread the almonds and coconut onto a baking sheet. Place it in the oven and toast until lightly brown. Stir occasionally to prevent burning. Once toasted, roughly chop your almonds and set aside to cool.
(If you're using Keto Hana granola, no need to do this as it's already perfectly toasted for you ;) ) 

Put a pan of hot water to boil. Place a glass bowl on top of this to melt your dark chocolate in. Once melted, stir in your coconut butter very slowly. Add in your extract and liquid stevia if you opted for this.

Pour the chocolate onto a tray lined with baking paper. Spread it out evenly using the back of a spoon or a spatula.

Scatter the toasted almonds and coconut flakes/or your Keto Hana granola over the top and press gently with your hands so that everything is touching the chocolate. Sprinkle lightly with pink Himalayan salt and let it set in the fridge for as long as you can resist it! (minimum 2 hours)

Once it has set, slice with a knife or break it up using your hands in small chunks for you and the family to enjoy :)
Yes, it's really that simple and tastes so so good!