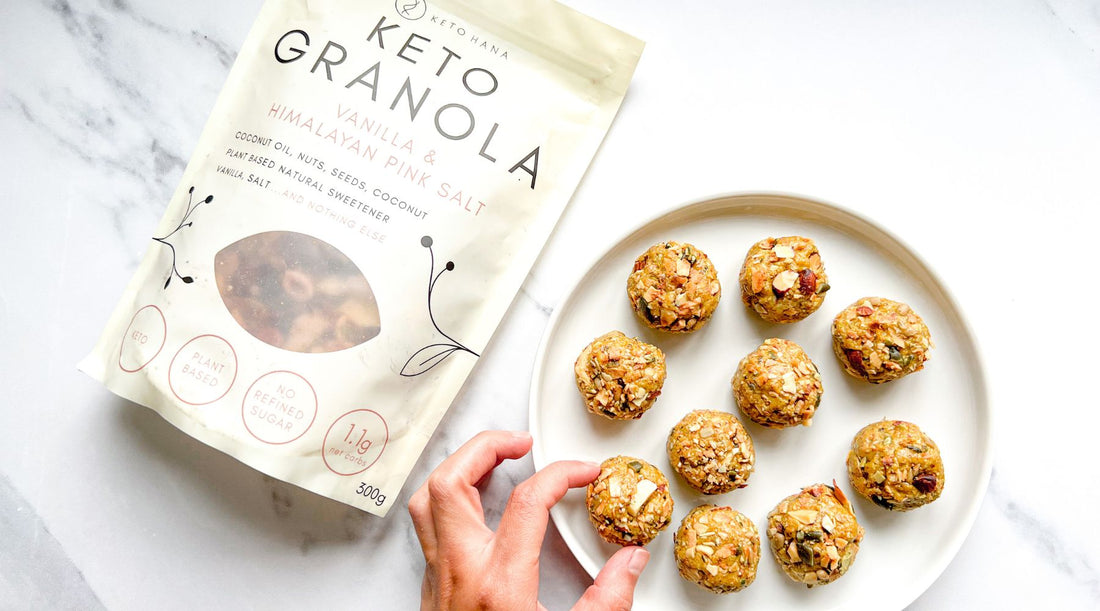 Turmeric & Cinnamon Energy Balls Recipe
These no-bake turmeric and cinnamon energy balls are the ultimate feel-good snack. They're completely moreish and are packed with healthy fats, including our nutty granola, coconut oil, and of course the hero ingredient, turmeric. 
Ingredients
2 tbsp coconut oil

1/4 tsp cardamom

1/4 tsp ginger

1/2 tsp cinnamon

1 tsp turmeric

1/2 cup (120ml) almond butter

10 drops of sweetener

2/3-1 cups of almond flour (depending on how runny the almond butter is)

2 large handfuls of Vanilla and Pink Salt Keto Hana granola - roughly chopped
Turmeric & Cinnamon Energy Balls Recipe
Mix all the ingredients together in a bowl, add the almond flour 1/3 cup at a time until you get

a consistency you can roll in your hands

Roll into little balls and then toss them over the chopped granola to coat all the surface

Keep them refrigerated

Enjoy the perfect turmeric energy balls! 
Turmeric Health Benefits 
We all know turmeric as a key ingredient in curries, lending its vibrant yellow colour and earthy, peppery flavour. What's more, it's one of the most famous natural anti-inflammatory ingredients, thanks to its active ingredient, curcumin. But did you know it's also fantastic for gut health? Read our blog where we answer your questions behind turmeric and gut health.