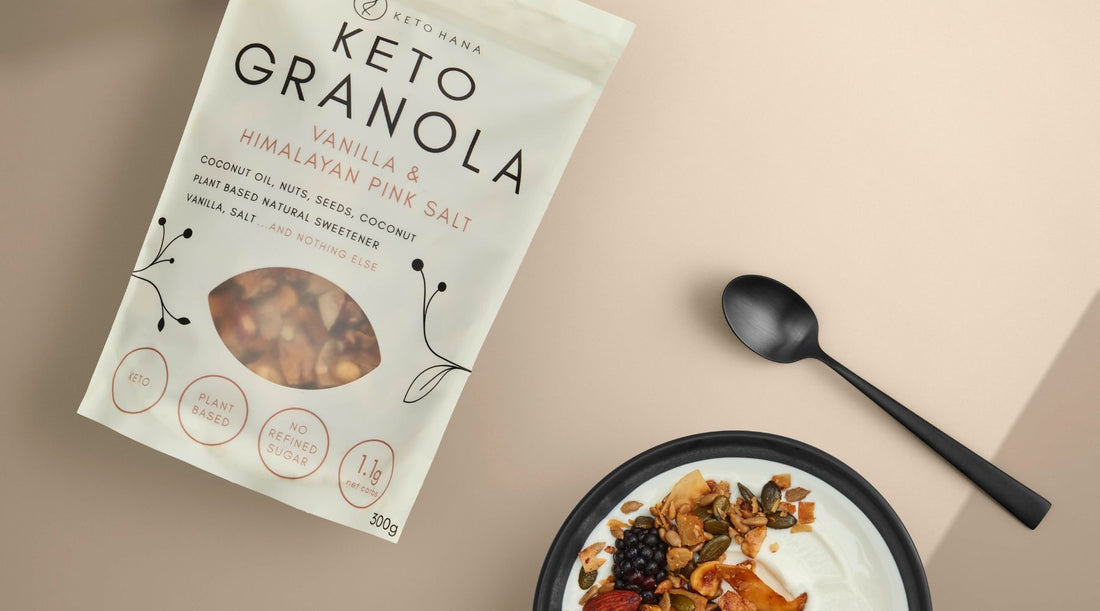 8 Ways to Boost Your Energy Naturally
Feeling drained by life's daily hustle? Don't worry, you're not alone. Our energy levels are influenced by a myriad of factors, from our diet and exercise routines to overall well-being. So to help, we've created a comprehensive, holistic guide to naturally boost your energy levels, backed up by health experts in the field. 
EMBRACE THE KETOGENIC LIFESTYLE
As you'll know, we're big fans of the ketogenic lifestyle and the amazing health benefits that come with it. Focusing on low-carb, moderate-protein, and high-fat foods, has shown incredible effects on energy and mental clarity. Why? With limited carbs, your body turns to fat as its primary energy source, aka ketosis. As a result, your energy levels become more stable, and you avoid the rollercoaster of sugar-induced crashes. When you're in ketosis, your body produces ketones, which provide a clean and sustained energy source for your brain and muscles. 
PRIORITISE QUALITY SLEEP
Sleep is your body's time to recharge and repair. Dr. Rachel Simmons, a sleep guru, emphasises the importance of consistent sleep patterns in optimising energy. During deep sleep, your body releases growth hormones that aid in tissue repair and restoration. The REM (rapid eye movement) phase supports cognitive function and memory. In other words, quality sleep will ensure you wake up refreshed and energised. 
STAY HYDRATED
Staying hydrated is essential for energy maintenance. Dr. Mark Williams, a hydration specialist, explains that dehydration can lead to reduced blood volume, resulting in less oxygen and nutrients reaching your cells. Drinking water throughout the day supports proper blood flow, nutrient transport, and overall cellular function. Adding herbal teas and electrolyte-infused drinks can also boost hydration and replenish essential minerals.
INCORPORATE REGULAR EXERCISE 
Dr. Sarah Mitchell, a fitness expert, reminds us that physical activity isn't just about burning calories; it's an energy-enhancing activity. When you exercise, your body releases endorphins, the feel-good neurotransmitters that uplift your mood and increase energy levels. Exercise also improves cardiovascular health, leading to better blood circulation and oxygen delivery to your tissues, keeping you energised for longer. 
MANAGE STRESS AND MENTAL HEALTH
Chronic stress and anxiety can drain your energy. However, Dr. Michael Chen, a mental health specialist, suggests mindfulness as your secret weapon. Meditation, deep breathing exercises, and other relaxation techniques reduce cortisol, the stress hormone. This helps you combat stress, improve focus, and maintain steady energy levels. 
OPTIMISE NUTRITION WITH SUPERFOODS
Dr. Emily Lawson, a nutrition expert, unveils the energy-boosting wonders of superfoods. Avocado, nuts, chia seeds, and leafy greens are packed with essential vitamins, minerals, and healthy fats that support energy production at the cellular level. These nutrient powerhouses fuel your body efficiently and keep you feeling energised throughout the day.
LIMIT SUGAR AND PROCESSED FOODS
Dr. John Turner, a dietary professional, warns against the energy-draining culprits - sugary and processed foods. While they might provide temporary energy spikes, they inevitably lead to crashes and leave you feeling lethargic. Opt for whole, unprocessed foods, which offer a sustained source of energy, keeping you charged and focused.
TIME YOUR MEALS STRATEGICALLY 
Dr. Michelle Patel, an expert in the fasting space, enlightens us on aligning meals with our body's natural circadian rhythm. Eating during daylight hours optimises energy utilisation, digestion, and nutrient absorption. Allowing your digestive system ample rest at night ensures your body efficiently processes nutrients, supporting overall energy balance.
We hope these expert-backed tips help transform your energy and well-being. If you have any questions don't hesitate to get in touch via our Instagram or email hello@ketohana.co.uk.