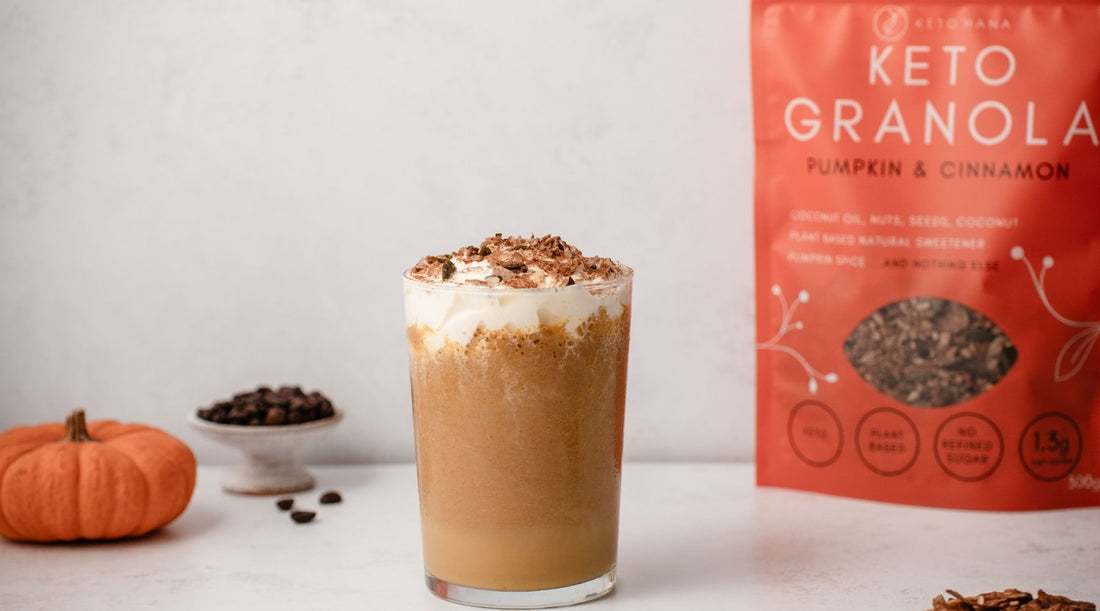 Pumpkin Spice Frappuccino
A keto twist on the classic pumpkin spice frappuccino inspired by that classic Autumnal Starbucks Frap but it's plant based, with added protein, wholefood goodness and completely sugar free.
(Serves 3)
Ingredients:
Pumpkin spice mix:
1 1⁄2 tsp cinnamon
1⁄4 tsp ground ginger
1⁄8 tsp ground nutmeg
1⁄8 tsp ground cloves


3 tsp instant coffee
20g pumpkin spice granola
500ml almond milk
75g pumpkin puree
1 tsp vanilla extract
10 x 70g ice cubes
3 tbsp erythritol (more or less to taste)
30g squirt keto whipped cream
1⁄4 tsp cinnamon
5g chopped pumpkin spice granola
Method:
In a blender blitz up the pumpkin spice mix, instant coffee, pumpkin spice granola, almond milk, pumpkin puree, vanilla extract and erythritol until ultra smooth and creamy.
Now add in the ice cubes and pulse until a frappuccino texture forms.
Pour into glasses and top with keto whipped cream, chopped pumpkin spice granola and a dusting ground cinnamon - enjoy immediately.