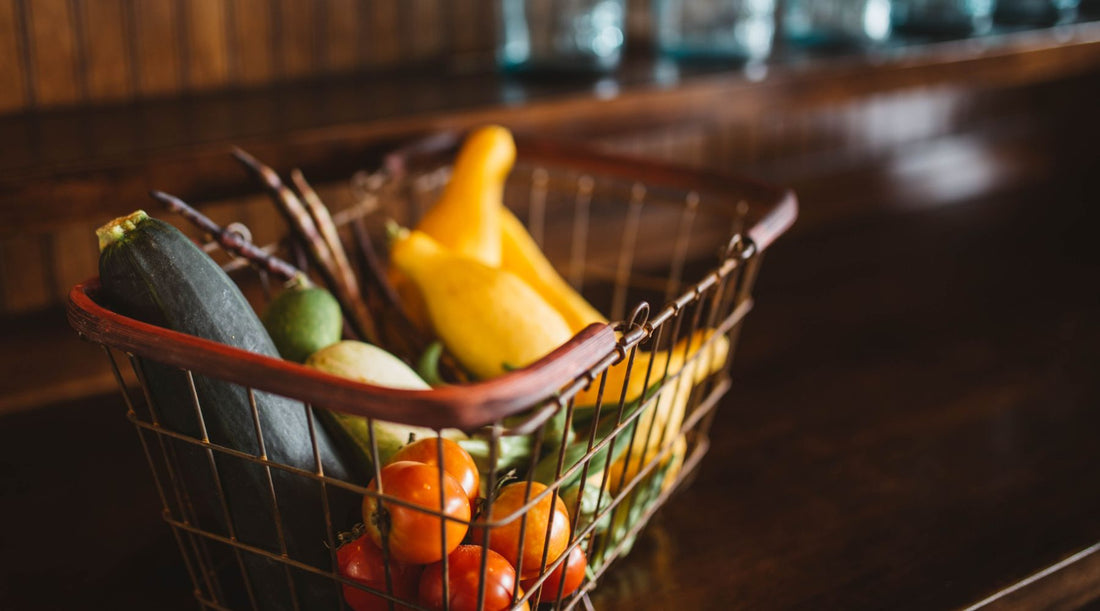 Your Keto Shopping List and Go-to Keto Recipes
Navigating your way through what's keto and what's not can be overwhelming, especially in the beginning. So here's a simple breakdown of the best ketogenic foods, plus some delicious no-fuss recipes to get you started. 
Vegetables

Nuts & Seeds

Meats &

Fish

Fruit

Broccoli

Almonds

Pork

Avocado

Cauliflower 

Coconut

Sausage


Berries

Leafy Greens

Sunflower Seeds

Chicken

Tomatoes

Courgette

Hazelnuts
Duck
Cucumber

Onions

Walnuts
Ground Beef
Lemon

 Mushrooms

Flax Seeds
Salmon and other fatty fish
Lime

Pepper

Chia Seeds

Seafood
| | | | |
| --- | --- | --- | --- |
| Dairy & Eggs | Snacks | Drinks | Cupboard Essentials |
| Milk | Beef Jerky | Bulletproof Coffee | Chicken & Beef Stock |
| Soft & Hard Cheese | Cocoa Nibs | Tea | Erythritol  |
| Ghee | Olives | Dry Wine | Herbs & Spices |
| Eggs | Cheese Crisps  | Sparkling Water | Cocoa Powder |
| Cottage Cheese | Seaweed | Berry Smoothies  | Olive Oil |
|  Full Fat Yoghurt | Keto Hana Bars & Granola | | Avocado Oil  |
EASY GO-TO KETO RECIPES
BREAKFAST: CHIA PUDDING 3 WAYS
Chia pudding is the perfect way to start your day with a good dose of healthy fats, fibre and protein. These are not only incredibly tasty, but our brimming with benefits for healthy digestion. 

Breakfast Essentials


SNACK: CHOCOLATE RASPBERRY BITES  

If you haven't got involved in the trending raspberry bites recipe, now is your time! Think fresh raspberries covered in melted dark chocolate and topped with our sweet raspberry granola - sounds incredible right!?
Snacking Essentials:


LUNCH: CAULIFLOWER SOUP 

All about promoting good digestion, this keto cauliflower chicken soup is packed full of plant power, plenty of polyphenols, and pre and probiotics to feed the good bacteria in the gut. Expect creamy cauliflower and nourishing chicken bone broth, with a little kick from the mustard, umami notes from the miso paste, and a warming touch from the ground nutmeg. 


DINNER: CHICKEN AND SQUASH STEW

This chicken and squash stew is the ultimate feel-good meal. A rich tomato sauce is complemented with warming spices and delicious chunks of chicken and butternut squash. Perfection.
Cooking Essentials

DESSERT: KETO LEMON & BLUEBERRY CAKE

A fluffy and moist cake with flavour hints of zesty lemon and bursting with juicy sweet blueberries. Completely low carb, keto, dairy free and refined sugar free means that even if you have dietary restrictions you can have your cake and eat it! And our decadent Vanilla Cake Mix and Crunchy Blueberry Granola take this recipe to the next level.
Baking Essentials